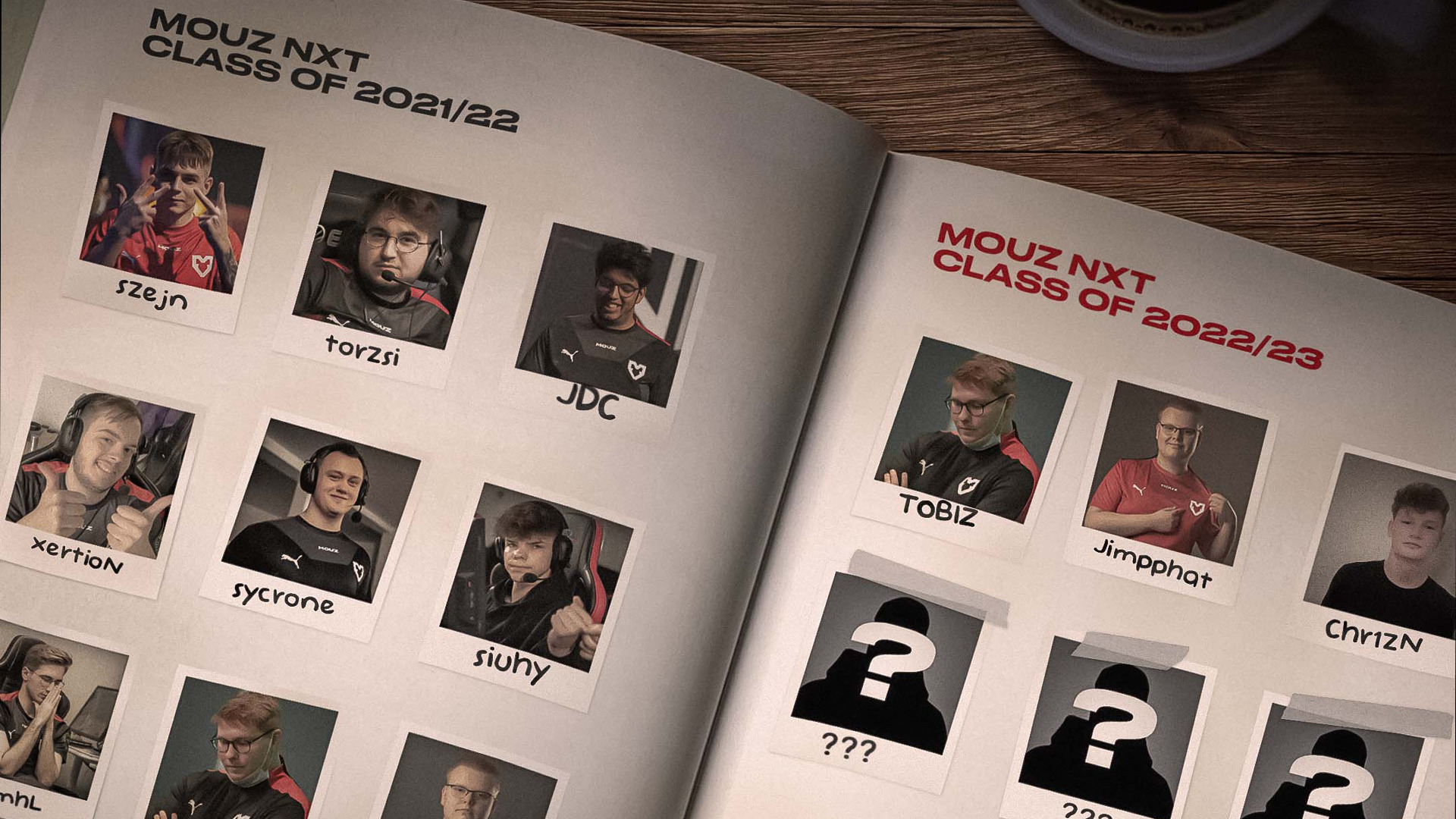 Sixteen months ago, in June 2021, we've built the most dominant academy team in CS:GO, by establishing MOUZ NXT, which became a proven household for upcoming talents to improve and advocate themselves. With the introduction of our academy roster, and stellar performances throughout various iterations of the WePlay Academy League, a total of four members made their way up to the MOUZ CS:GO roster. Today, we're rebuilding our MOUZ NXT roster from scratch, as it's time to back the next generation of talents with the same conditions of a professional team, aiming no less than to succeed the previous class.
Throughout our 20+ year-old history, MOUZ has always been known to give unproven but promising talents a chance to make the next steps. Global superstars like Robin "ropz" Kool, Nikola "NiKo" Kovac (both CS:GO) or the likes of Antonio "cyx" Daniloski or Fatih "gob b" Dayik (both CS 1.6) kickstarted their careers in MOUZ, as they've been integrated in well-functioning rosters. With the unambiguous goal in mind to create a separate roster that allows us to support an entire team of unproven talents, we've established MOUZ NXT in June 2021, giving five players and their coach the chance to actively work not only on their future but the future of our brand. And the class of 2021 surely didn't miss to do so.
Winning four consecutive trophies in the WePlay Academy League, MOUZ NXT, despite some lineup changes due to several players being promoted to the MOUZ CS:GO roster, became the most dominant academy team in CS:GO, even making the cut for the Top 30 HLTV.org World Ranking in December 2021. After two seasons, Ádám "torzsi" Torzsás, alongside Head Coach Dennis "sycrone" Nielsen were the first ones to be promoted to the MOUZ CS:GO roster in January 2022, with Jon "JDC" de Castro and Dorian "xertioN" Berman following later. Former MOUZ NXT IGL Kamil "siuhy" Szkaradek recently led Gamer Legion to the RMR in Malta.
We've decided to rebuild MOUZ NXT from scratch, keeping Jimi "Jimpphat" Salo as the sole player, while Tobias "TOBIZ" Theo remains in charge of the MOUZ NXT project as the Head Coach. "Working with Jimi for just a little more than three months assured us of his inconceivable raw skill, so it was without question to start our rebuilding process of MOUZ NXT around him.", says MOUZ CEO Stefan Wendt.
Chr1zN to join as IGL
For the second cornerstone of the upcoming MOUZ NXT roster, we've decided to sign Christoffer "Chr1zN" Storgaard as the new IGL of the team. The 16-year-old Dane has shown great potential and quickly sparked interest of Head Coach TOBIZ: "I am very excited to have Christoffer on our next lineup for the NXT roster. The qualities that Christoffer will bring to the team both on and off the server are things, that are very rare to find these days among young talents."
With Jimpphat and Chr1zN set as the new core members of MOUZ NXT, we've decided to take a more open approach towards the remaining three slots on the team. Before the roster lock for the upcoming WePlay Academy League season, we will have a competition for the last slots, with Marcus "Q-Q" Krolak-Henriksen (Denmark) and Bram "Nexius" Campana (Belgium) being the first two players getting a chance in ESEA Season 42: Advanced Division – Europe, starting today, and Radim "KADIM" Vojkuvka (Czech Republic) joining the duo as the third trial member later.
"Working with Jimi for just a little more than three months assured us of his inconceivable raw skill, so it was without question to start our rebuilding process of MOUZ NXT around him." - Stefan Wendt, CEO of MOUZ
Stefan

We'll trial players in the next few weeks
"MOUZ NXT is going through a rebuilding phase for the first time since we've launched this incredibly successful project. This time though, the approach is a bit different, as we're not committing to a full roster yet. We'll trial players in the next few weeks to identify which group of players can build strong synergies combined with good chemistry to guarantee continuous growth."
TOBIZ

Christoffer will take over the reign as IGL
"I am very excited to have Christoffer on our next lineup for the NXT roster. The qualities that Christoffer will bring to the team both on and off the server are things that are very rare to find these days among young talents. Despite his age, Christoffer will take over the reign as IGL in our team, in which I have no doubt about he will have great success with. Furthermore we have three other players currently trialing with us for the next couple of weeks, QQ, Nexius and KADIM, who also will play an upcoming tournament with Jimi and Christoffer."