The MOUZ NXT Class of 2023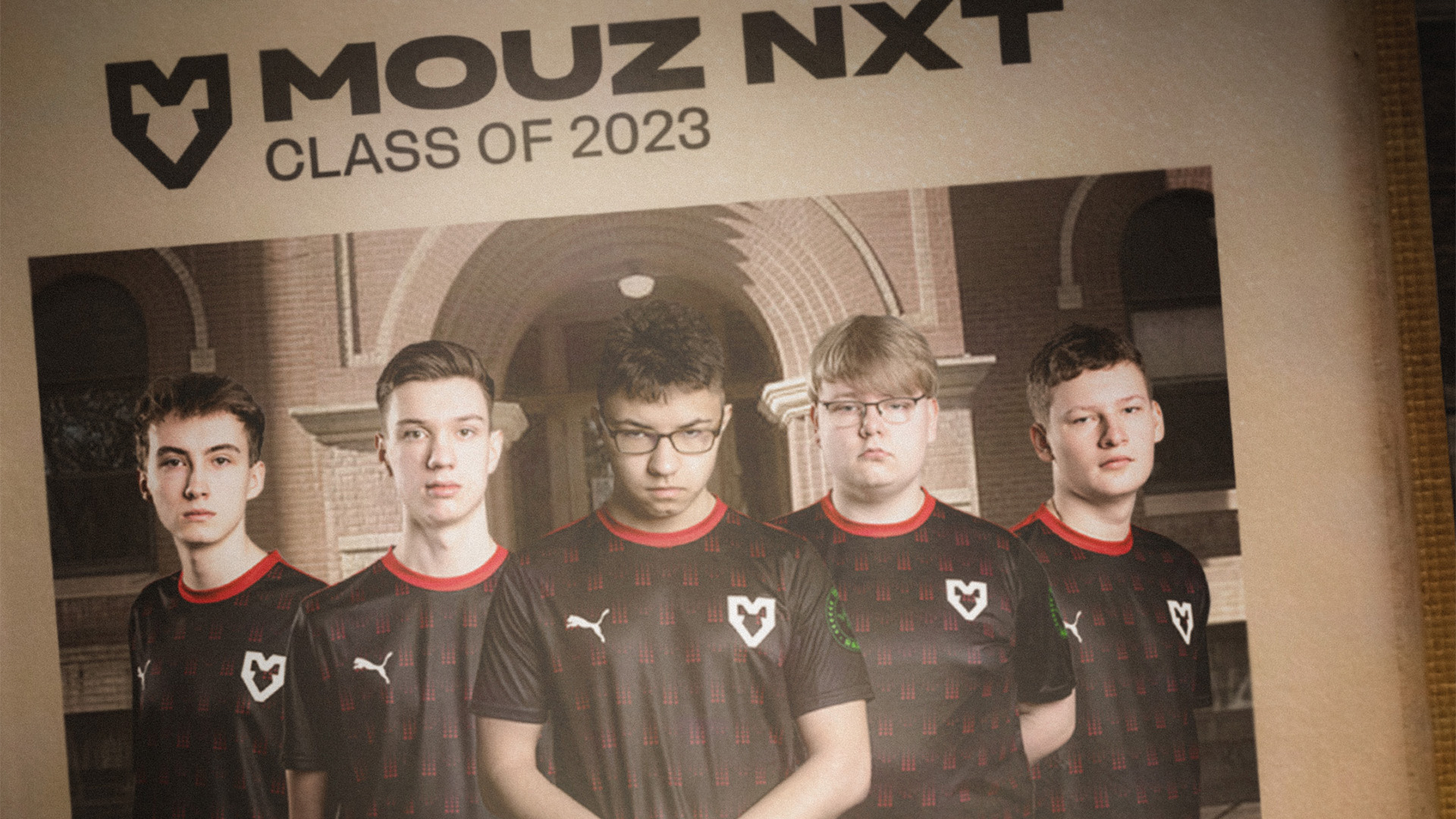 After months of trialing various young talents, we finally have a full MOUZ NXT roster again with the addition of Nexius, Q-Q, and the latest signing of sl3nd.
We signed Marcus "Q-Q" Krolak-Henriksen and Bram "Nexius" Campana last November after a successful trial with the other core members Jimi "Jimpphat" Salo and In-Game-Leader Christoffer "Chr1zN" Storgaard. The team continued to trial multiple players to find the last puzzle piece for our MOUZ NXT, and we are finally ready to unveil the fifth player: Henrich "sl3nd" Hevesi.
Already on the list
The new addition is an 18-year-old AWPer from Hungary and has been trialing with the team since the start of this year. It's not a surprise that we ultimately decided he would be a good fit for the team. "I'm very happy to finally have him on board. sl3nd was one of our first players we looked at when we started assembling the new squad with Jimi and Christoffer", says MOUZ NXT Head Coach Tobias "TOBIZ" Theo. "He has shown the potential we saw back then with the big green." Due to circumstances, we couldn't trial sl3nd, but jumped at the opportunity when we heard he was available for try-outs.
Hungarian AWPers
sl3nd is the second Hungarian AWPer who will play under the MOUZ NXT banner. He already had a chance to talk to Ádám "torzsi" Torzsás in the joint bootcamp with the MOUZ main-team in Poland. During the bootcamp, they could observe how Tier 1 CS operates. The team is training hard and gaining experience by playing multiple tournaments simultaneously. TOBIZ says, "The team is on a fantastic path, starting to make playoff runs in various tournaments and recently qualified for MistGames Lofoten LAN in Norway late April. Overall, exciting times are ahead of us here in the NXT team."
We couldn't be more excited to see how the NXT generation of MOUZ CS players will develop and follow into the footsteps of other MOUZ' greats.
"I'm very happy to finally have him on board. sl3nd was one of our first players we looked at when we started assembling the new squad with Jimi and Christoffer" - Tobias "TOBIZ" Theo
sl3nd was one of our first players we looked at
"I'm very happy to finally have him on board. sl3nd was one of our first players we looked at when we started assembling the new squad with Jimi and Christoffer. He has shown the potential we saw back then with the big green. The team is on a fantastic path, starting to make playoff runs in various tournaments and recently qualified for MistGames Lofoten LAN in Norway late April. Overall, exciting times are ahead of us here in the NXT team."