MOUZ' Maximilian Benecke wins first ever ESL R1 event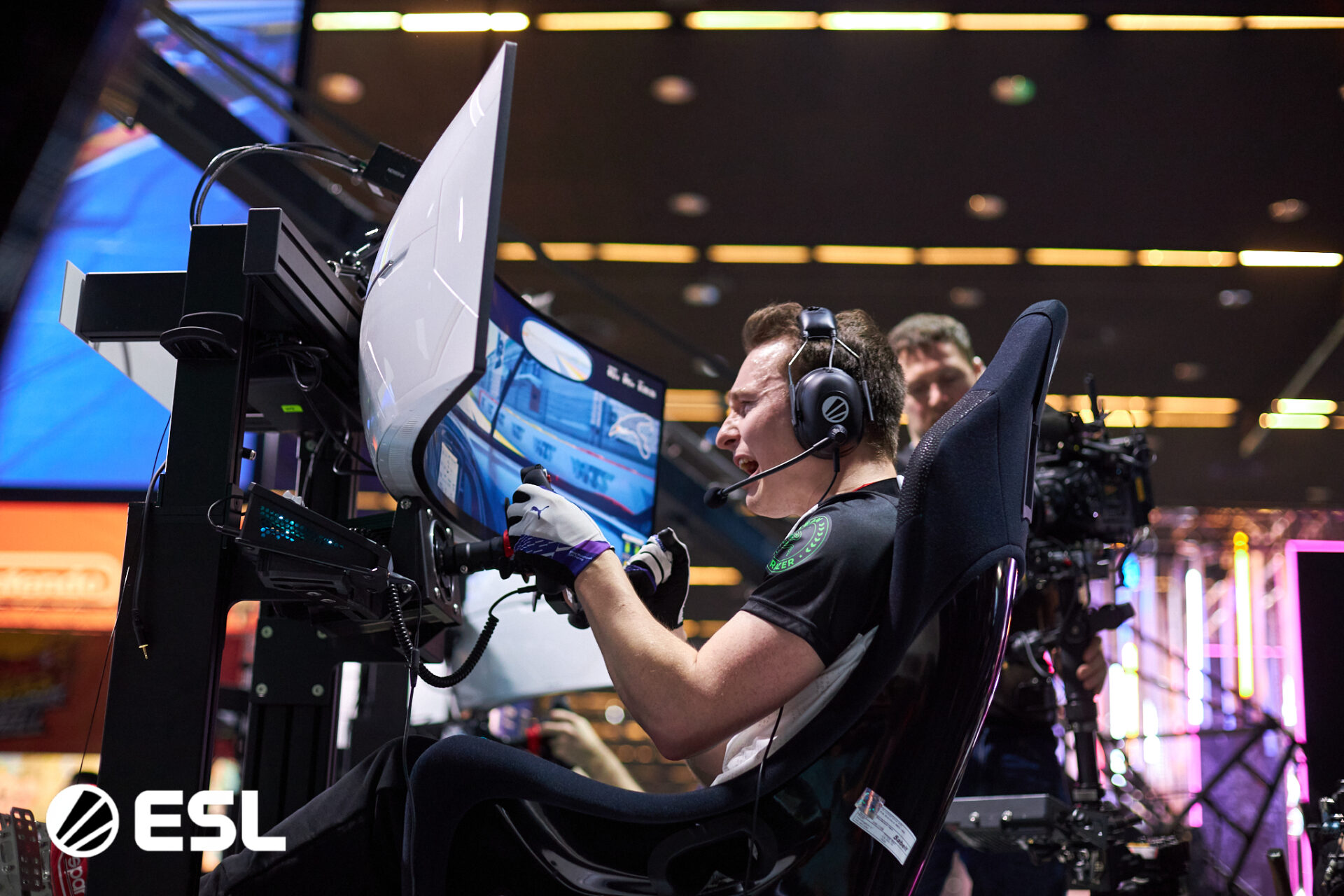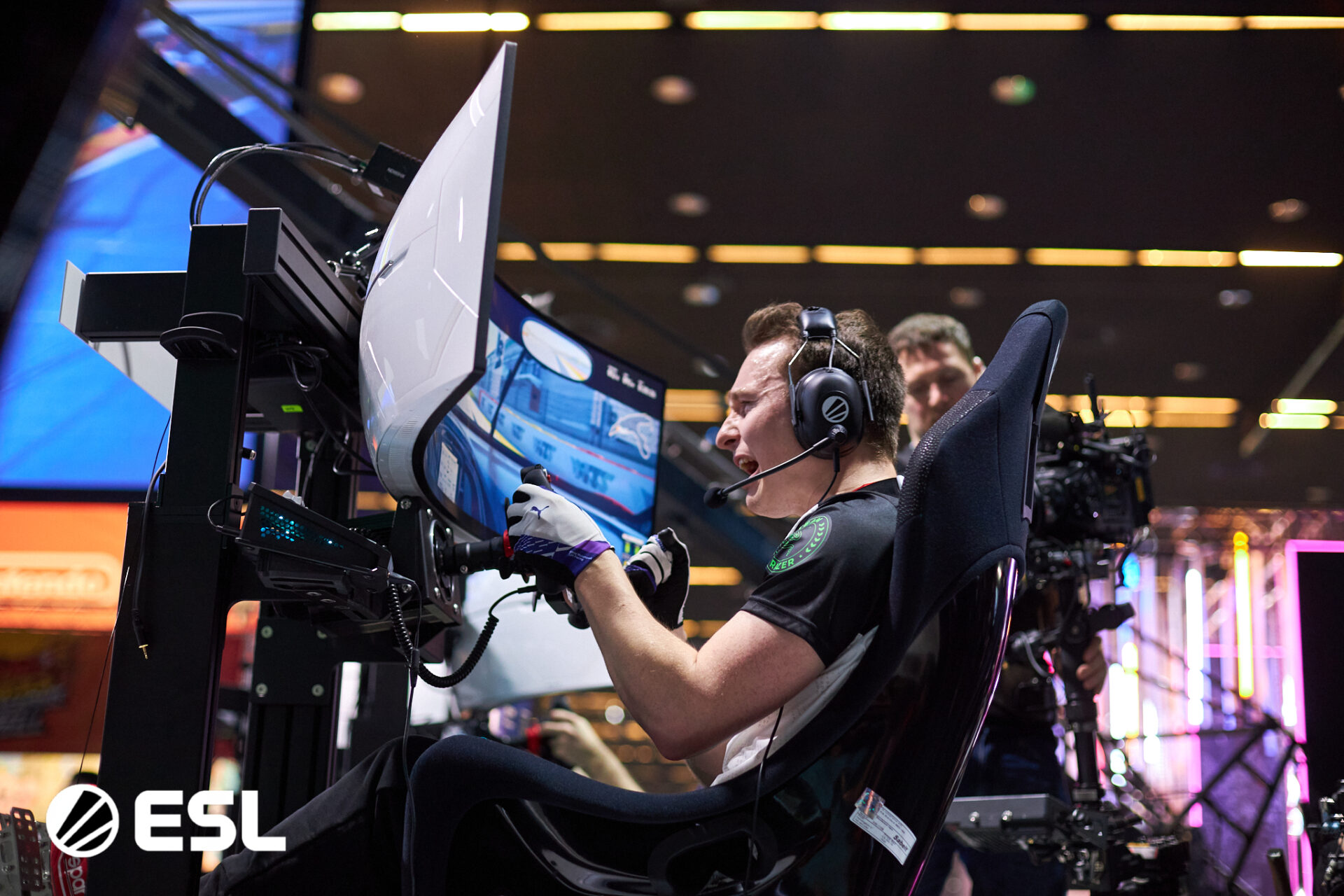 Former iRacing World Champion Maximilian Benecke has won the first ever ESL R1 event in Katowice, featuring the new motorsports simulation Rennsport. Teammate Moritz Löhner nets second and fifth place for the weekend.
IEM Katowice hosted the kickoff event for the inaugural ESL R1 season, a joint project of ESL, new racing simulation Rennsport as well as some of the biggest esports organizations, well known manufacturer brands and the most renowned sim racing teams. A total of twelve teams consisting of four drivers each, compete for a total of $500,000 EUR prize money across two seasons in 2023.
IEM Katowice impressions
IEM Katowice is known to be the early year highlight for CS:GO and StarCraft II competitions for the last years. With dozens of memorable stories and some of the biggest upsets in esports history, the Polish city gathers fans from around the world for each event in the beginning of the year. Besides ESL Pro Tour (CS:GO), ESL Impact (CS:GO) as well as the StarCraft II tournament happening in Katowice, a new category of esports was introduced to the attending audience- sim racing.
As part of the IEM Expo right next to Spodek Arena, ESL R1 gave 48 of the best sim racers in the world a chance to fight on a stage not seen before for virtual motorsports. In twelve professional simulator cockpits, positioned in a circle with commentators and stage in the middle, a total of twelve drivers per round fought for a spot in the top six, which granted a ticket into the next round, all the way up to the final.
First-ever ESL R1 winner
Out of four drivers, we managed to bring three of them into the semifinals, as only Yuri Kasdorp was taken out of the race for the semifinals by a questionable 5s slowdown penalty, after Mercedes' Bono Huis was pushed into the grass during a 3-wide situation with FURIA's Felipe Baptista. With Patrik Holzmann being eliminated in the semifinals by Mercedes' James Baldwin, who went for a late send with car contact into turn 1, it was up to former iRacing World Champion Maximilian Benecke as well as multiple time ADAC GT Masters Champion Moritz Löhner to represent MOUZ in the Final race of day one on the historic track of Spa-Francochamps. With his best lap of the weekend, Maximilian Benecke positioned his Audi R8 EVO II on the Pole Position, teammate Moritz Löhner went 4th on the grid.
In a heated start, Benecke managed to defend his lead, while Moritz Löhner collided with R8G's Erhan Jojovski after the standing start to receive a 5s slowdown penalty at the start of his race. With Löhner fighting his way back through the field to finish in 5th position, Maximilian Benecke held onto his 1 second lead throughout the entirety of the race to become the first ever ESL R1 winner.
Day two was kicked off by Moritz Löhner wo started 4th on the grid and had a rather calm race after some first lap battles to move on to the semifinals. Saturday's winner Maximilian Benecke who only started 8th on the grid, fought his way through a competitive field to move into semifinals on 6th position.
Yuri Kasdorp made a minor mistake in his qualifying lap, which saw him grid on 10th position. He was cut short of the top six, as he lost too much time while battling for positions in the beginning of the second quarterfinal. After being taken out on day one, Patrik Holzmann seemed to have avoided a major wreck in 5th position, coming out of turn 10/11, but got hit in the rear left suspension by a spinning BS+ BMW car and has been taken out in the aftermath.
With both Löhner as well as Benecke making their way through the semifinals, they qualified 2nd and 7th respectively on the Final grid. Saturday's winner Maximilian Benecke was forced to battle cars throughout the majority of the Finals, not allowing the German driver to unfold his raw pace as demonstrated the day before, as he finishes 7th in the end. Teammate Moritz Löhner was following the race leader Joshua Rogers constantly, but never was able to match the Porsche's straight line top speed to make a move and finishes on second place after his 5th place finish on day one.
MOUZ currently sits on 2nd place in the Team Championship, trailing R8G Esports by 24 points. In the Driver Championship, Porsche's Joshua Rogers leads with 107 points, followed by R8G's Marcell Csincsik (102) and both MOUZ drivers Moritz Löhner (98) and Maximilian Benecke (95), R8G driver Jiri Toman rounds out the top five with 87 points.
ESL R1 and Rennsport have certainly made an impact to the sim racing scene with one of the best events. Next up are rounds three to eight, all held online from March 10 to May 8, before the first ever ESL R1 Major with Rennsport will take place in Munich.
"We've been very clear about our plan to fight for victories from day one. Impressed by the hard work the team has put into Rennsport, I knew we would go to Katowice as one of the top contenders, and seeing Maximilian winning the very first event meant a lot for him and our organization." - René Lannte, COO
René Lannte

Our goal was to win right from the start
"Extremely happy for Maximilian to prove his doubters wrong and really impressed by Moritz' textbook racecraft all weekend. Bit mixed feelings as Patrik got taken out twice in favorable positions on both days. Yuri had bad luck on day one, as I don't really agree with the penalty given, on day two he had an uphill battle all race long as he made a mistake in qualifying. Overall great pace by all four drivers, and I'm sure they'll do well in the upcoming rounds."
Maximilian Benecke

I knew I was good in LAN events, so obviously means a lot to me
"Very relieved and happy to nail qualifying, it was probably my best lap today, but Toman gave me a very hard time at the end. When we came here we knew it was going to be extremely close, because it's fixed setup and everyone practices a lot. So qualifying is everything and I had three good qualifying laps today, very happy with the last one obviously, feels amazing. I was struggling a little bit in recent years of course, but I knew I was good in LAN events, so obviously means a lot to me. I've been in contact with MOUZ for three months now, so it's all very recent, but they gave us all the support we needed. I think the team deserved a little bit better today, Moritz was a bit unlucky, I think we both could've been up there, also Patrik in the semifinals and very unlucky penalty for Yuri as well. Overall I think we made a pretty good choice joining MOUZ- really happy and excited to be part of the team. That's just the beginning and hopefully we have a lot more to prove."