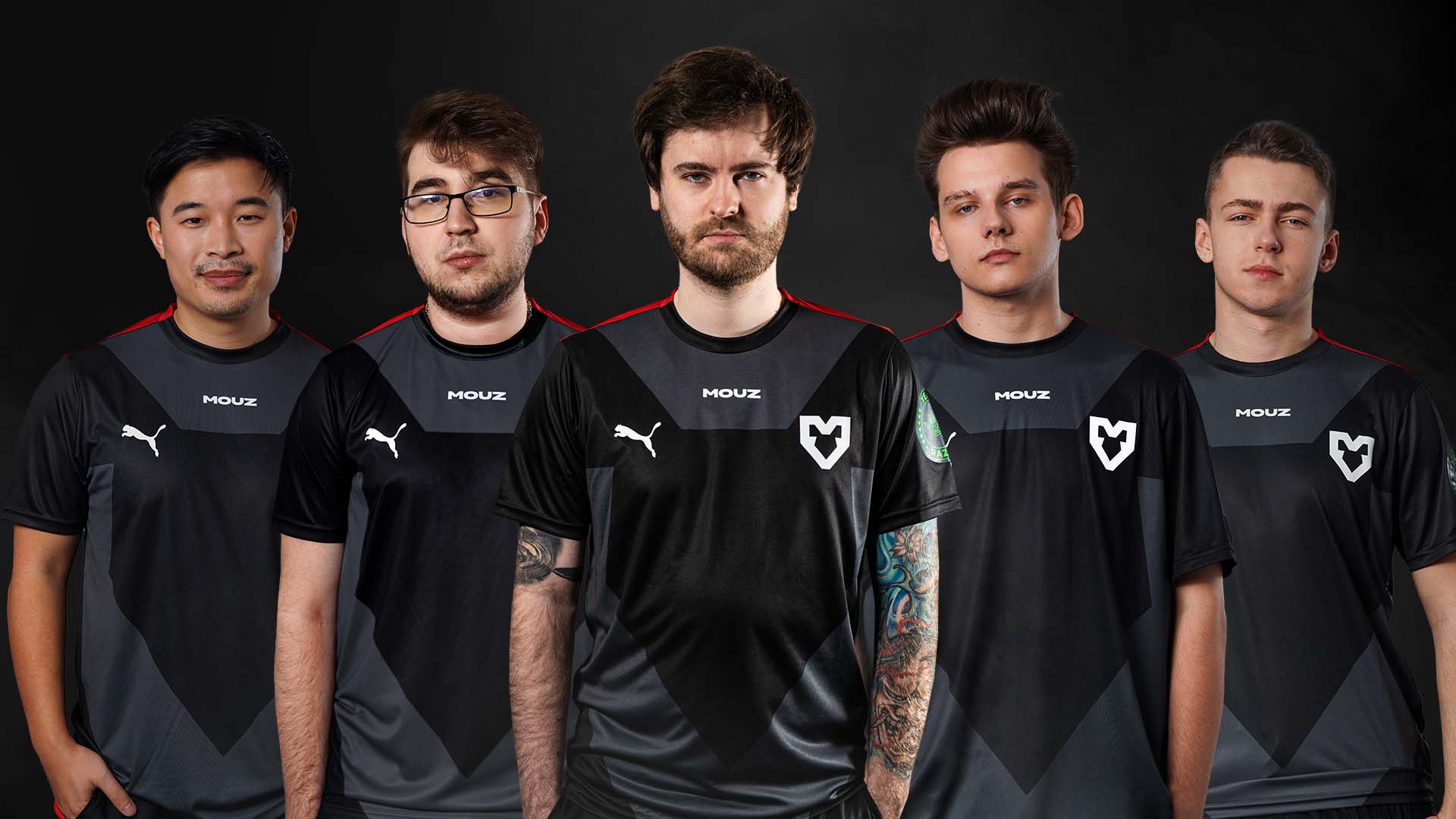 A new era for the MOUZ CS:GO team is starting. We made some notable changes to our line-up for this coming year, to keep tweaking the performance and bringing the right personalities together. Through combining the strength of experience and young raw talent, we want to excel in Counter-Strike and will be taking our first official steps in Katowice.
After looking back at the past year and considering our options, we have made confident decisions for the 2022 CS:GO roster. Not only have we acquired the Counter-Strike legend Nathan "NBK-" Schmitt, but also promoted the AWPer Ádám "torzsi" Torzsás to MOUZ CS:GO as well as the prior MOUZ NXT coach Dennis "sycrone" Nielsen. We founded MOUZ NXT last year and it has been successful from the get-go. The growth the team has gone through shows, that we have the ability to foster young talent under the MOUZ brand and to promote them to new positions.
Nathan "
NBK-

" Schmitt

We welcome the French Counter-Strike legend Nathan "NBK-" Schmitt, also known as "The Kingmaker" who is one of the best Global Offensive players of all time having played for many renowned French Teams and now coming from OG. Even though he officially started playing Valorant in June 2021 and announced the end of his career, things have taken quite the turn. In this regard his opinion is the following: "At this point in my career, I really want to be in a place where I believe in everyone to win trophies. Moving things around and leveraging new talent are what I can do to achieve that. These are some of the reasons why I'm coming back to Counter-Strike and not pursuing Valorant." Nathan won two Majors, he was among the top 20 players in the world three times and won more than 20 trophies in his career so far.

Stefan Wendt, CEO of mousesports says: "When reviewing our 2021 season, our major issues were leadership and experience. We always had enough firepower and high skilled players but we needed more structure and a cool head in high intensity situations. When planning 2022, we knew replacing ropz skill-wise would be an impossible task, so we looked for a player that can lead our younger players and we think Nathan is the perfect candidate for it."

Nathan states: "When I received the offer from MOUZ, I think there were a lot of good elements. I could see a great org, great talent and a good team overall where the position that I would have in the roster is exactly where I want to be. It's more about helping the framework outside of the game and having full trust in dexter to lead the team. I've spent the past year learning a lot about myself and how to handle things outside of the game and having the right opportunity in a team that I believe in to win championships was what really mattered in the end."
Ádám "
torzsi

" Torzsás

Another exciting update is our AWPer Ádám "torzsi" Torzsás, who got promoted from the MOUZ NXT roster, to play for our main roster. The 19-year-old Hungarian has proven in the past half year that he has consistency in his aim and a great enthusiastic mindset. He doesn't hesitate in his decision making and brings a lot of energy to the team. MOUZ NXTs success from 2021 shows that anyone has the potential to move to a tier 1 team when hard work and dedication pays out.

Ádám states: "Thanks for this great opportunity, I hope I can exceed everyone's expectation. Last year was full of surprises and I think we made the best out of MOUZ NXT. The promotion starts a new chapter for me! I love my NXT teammates so much and I wish them the best of luck, as they deserve the same as me. I know they will make it sooner or later! I am extremely excited to start practicing and playing in my first tier 1 event! Can't wait to see what this year holds for us!"

Dennis, our new head coach sees A Ádám as a highly valuable player: " Ádám is super dedicated, often so much that he makes me question if I am working hard enough. He's overall, a witty, humble and kind guy. Adam's playstyle is very dynamic which will probably be a new asset for MOUZ moving forward."
Dennis "
sycrone

" Nielsen

Another member from MOUZ NXT has proven himself during the past six months. With his promotion to the Head Coach of MOUZ CS:GO, we want to place a beacon for young coaches out there, that it's not just experience that you have to bring to the game but also the right mindset. Dennis has proven his worth in the guidance he showed for the NXT roster. He has the emotional understanding of the individuals as well as group dynamics and Dennis brings a highly professional structure to the team.

Jan Dominicus, Chief Business Officer at MOUZ says: "We signed Dennis back in June 2021 knowing that his philosophy and values would be a good fit for MOUZ. Not only did he develop the players on the MOUZ NXT roster but he also made a huge step forward as a coach in the last six months. The results speak for themselves. When the head coach position was up for grabs, We knew that promoting Dennis would be the next logical step and we can't wait to see how the team will develop under his supervision."

Dennis states: "I'm a "hands on" type of coach. I like to put forward a good example of how to act on and off the server and look at pretty much everything, especially the tactical aspects and distribute responsibility within the team. Due to my history of playing and my genuine interest for the game, it gives me an edge over many coaches out there. For me, team culture is everything, which is a value I share with the MOUZ org as a whole."

This team has so much potential, together with the other members David "frozen" Čerňanský and Aurimas "Bymas" Pipiras and the IGL Chris "dexter" Nong, we believe in the quality of communication and team-building that will take place in the coming months, to leverage the best possible versions out of every player and their positions.

Some things come to an end, since this also means that some of our old roster members will not be part of the roster or at the organization anymore. We part ways with Robin "ropz" Kool, who will be joining FaZe. We say goodbye to Torbjørn "mithR" Nyborg, our prior Head Coach, who moves on to Apeks. Frederik "acoR" Gyldstrand will move into a substitute role.

We are excited to see the new team evolving, starting with IEM Katowice in February. An exciting new era is waiting for us in 2022.
I've spent the past year learning a lot about myself and how to handle things outside of the game and having the right opportunity in a team that I believe in to win championships was what really mattered in the end." - Nathan "NBK-" Schmitt
Stefan Wendt

Nathan is the perfect candidate
"When reviewing our 2021 season, our major issues were leadership and experience. We always had enough firepower and high skilled players but we needed more structure and a cool head in high intensity situations. When planning 2022, we knew replacing ropz skill-wise would be an impossible task, so we looked for a player that can lead our younger players and we think Nathan is the perfect candidate for it."
Jan Dominicus

a huge step forward
"We signed Dennis back in June 2021 knowing that his philosophy and values would be a good fit for MOUZ. Not only did he develop the players on the MOUZ NXT roster but he also made a huge step forward as a coach in the last six months. The results speak for themselves. When the head coach position was up for grabs, We knew that promoting Dennis would be the next logical step and we can't wait to see how the team will develop under his supervision."
NBK-

the right opportunity in a team
"When I received the offer from MOUZ, I think there were a lot of good elements. I could see a great org, great talent and a good team overall where the position that I would have in the roster is exactly where I want to be. It's more about helping the framework outside of the game and having full trust in dexter to lead the team. I've spent the past year learning a lot about myself and how to handle things outside of the game and having the right opportunity in a team that I believe in to win championships was what really mattered in the end."
torzsi

I hope I can exceed everyone's expectation
"Thanks for this great opportunity, I hope I can exceed everyone's expectation. Last year was full of surprises and I think we made the best out of MOUZ NXT. The promotion starts a new chapter for me! I love my NXT teammates so much and I wish them the best of luck, as they deserve the same as me. I know they will make it sooner or later! I am extremely excited to start practicing and playing in my first tier 1 event! Can't wait to see what this year holds for us!"
sycrone

team culture is everything
"I'm a "hands on" type of coach. I like to put forward a good example of how to act on and off the server and look at pretty much everything, especially the tactical aspects and distribute responsibility within the team. Due to my history of playing and my genuine interest for the game, it gives me an edge over many coaches out there. For me, team culture is everything, which is a value I share with the MOUZ org as a whole."